Glamorous Dubai isn't just a business and transport hub for the Middle East. It's also a world-class luxury destination, offering boutique shopping and innovative architecture. The UAE real estate market has taken a big hit over the last couple of years, so there's a surplus in the supply of luxury units available.
As such, there are some excellent deals to be had for investors. Whilst rental values have also fallen, investors can still achieve 6-7% on good property. It's important to invest in more established communities, like Dubai Marina and Downtown.
What you need to know
You'll need personal insurance when taking out a mortgage here, which can be arranged by our in house insurance brokerage, Enness Global Insurance.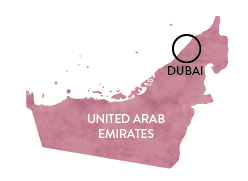 Only UAE banks can lend in Dubai, although some private banks have local partners.
Investors from around the world can purchase in Dubai, but some—such as Iranian and Syrian nationals—will face more stringent LTV restrictions from many banks.
Be aware of local customs and procedures: there's no 'conveyancing' as such, as this is done by the estate agent, but some of the larger agencies have their own in-house sales progression teams.